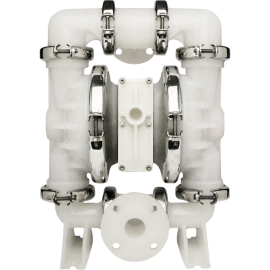 Pneumatic plastic or metallic diaphragm pumps are positive displacement devices, linked to chemical-corrosive products, petroleum products, effluents, galvanic baths, ETA / ETE sludge and others.
They have an excellent yield without pumping of viscous-corrosive products and with solid particulates. They can be placed as transfer pumps or discharge pumps.
Pneumatic plastic or metal diaphragm pumps use compressed air as their energy source, the main ones for pumping applications. However, pneumatic plastic or metal diaphragm pumps have a greater number of production and operating units, and are hardly comparable to other types of pumps (non-damaged viscosimeter and slip products). These statistics are pneumatic plastic or metal diaphragm pumps so versatile that their range of applications is practically unlimited.
Pneumatic pumps are divided into two modules, one of which is the pump and one vacuum pump and another dry part or central block. These sets are separated by two diaphragms, which isolate the pumped liquid from the compressed air.
Applications of pneumatic plastic or metal diaphragm pumps:
As a reference we can have clients chemical products, corrosives, adhesives, paints and varnishes, pigments, resins, slip and ceramic enamels, industrial sludge, ETA / ETE sludge, effluents, oils, hydrocarbonates, solvents, blood, ammonia, shampoo, detergents, soil diatom, among other products.
Special equipment for the Food and Pharmaceutical area does not pump tomato extract, yogurts, lecithin, creams and cosmetics, and diamonds.
Pneumatic plastic diaphragm pumps are also used in filtration equipment such as blood pressure and the use of safety systems, since the maximum pressure, a pneumatic, plastic or metallic diaphragm pump stops automatically. , avoiding damage to the equipment.
Related posts